Custom Wire Harnesses and Wire Harness Assemblies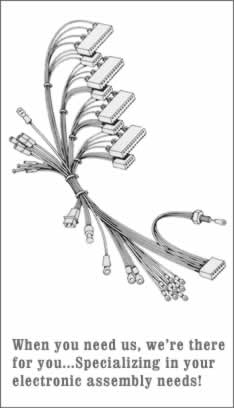 For more than 55 years, Omega Leads continues to be the industry's most trusted custom wire harness manufacturer. We provide complete turnkey solutions for a wide range of applications. Allowing Omega Leads to be a part of your supply chain, our Team can help streamline you're manufacturing processes, and free up your production group. Just a few of the industries we serve: gaming, electric vehicles, off-road, solar and more…        
At Omega Leads your Custom manufactured wire harnesses and wire harness assemblies are built to your exact design specifications. Our Team understand that every project has its own unique design. After we receive your print, and BOM, we review it to make sure that all components are compatible, and then relay any inconsistency's to your staff. We find that this eliminates any confusion during production.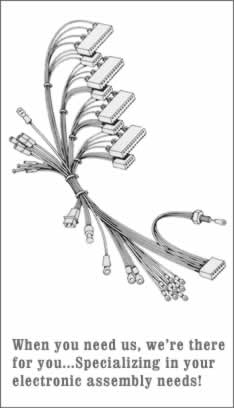 Why Choose Omega Leads for Your Custom Wire Harness and Wire Harness Assembly Needs?
For more than 55 years, Omega Leads has been manufacturing the highest quality custom wire harnesses' and wire harness assemblies' available using state-of-the-art robotic equipment. We also provide exceptional value-added services, from custom wire marking to wire cutting services, to give our customers the best value and highest dollar-for-dollar return on their investment. Omega Leads provides the following advantages:
Decades of knowledge and experience
Consistent communication throughout the entire project
Products designed and built at our facility in the USA
Utilization of only the highest quality materials
Competitive pricing
Excellent ROI
Quality control standards and certifications
Custom Wire Harness & Wire Harness Assembly Applications
At Omega Lead, We offer complete turnkey manufacturing and a range of value-added services to provide our customers with the ideal custom wire harness assembly for your project. We manufacture your harness using nothing but the highest quality products, built to match our customers' exact design specifications. We provide custom solutions for all industries and applications, including:
Wire Harness Manufacturing Capabilities
Omega Leads can create custom wire harnesses in any configuration you require. There are essentially no limits to our manufacturing capabilities. We build your wire harnesses based on your completed designs, or our in-house application engineering team can work with you to turn your designs into fully functional wire harnesses that meet your exact requirements. We can add wire identification  to each wire to help simplify manufacturing at your facility, and installers in the field. We can also add date codes and serial numbers for traceability.
Your custom wire harness designs can include:
Unlimited selection of wire, gauge, insulation style, and color
Any number of wires
Any number of breakouts, located anywhere on the assembly
We manufacture Custom Connectors
Any manufacture Terminal, & Connector  
Molex
Furukawa
Sumitomo
Delphi
Deutsch
Bosch
ITT Cannon
TE Connectivity (formerly Tyco)
JST
And more…
Every custom wire harness that we produce is electrically tested to ensure proper performance, we can also add a label that includes part number, date of manufacture for tractability.
Custom Wire Harness Design Resources
Omega Leads' application engineers are here to answer any questions you may have and help you conquer any design challenges you may be facing. We can work with your design Team and recommend adjustments if needed. We can create prototypes and first articles, allowing you to test your designs for form, fit, and function.
Because we offer complete turnkey solutions, your staff is free to concentrate on other vital projects while we handle the entire wire harness manufacturing process. Once your final design is approved, and your purchase order has been received, we will submit a 1st article to review. After the approval process, we review deliver dates with your staff, and production begins.
Our Quality
All of our Cable assemblies are electrically tested, and are built to IPC/WHMA-A-620 standards, we are ISO compliant see our quality standards. We can supply you with our current Quality manual if you would like a copy. 
Contact Omega Leads for Turnkey Custom Wire Harness Solutions
If you have any questions, please contact us, we look forward to hearing from you. From the simple to the complex, we can manufacture wire harness assemblies for any application. To learn more about the custom solutions Omega Leads can provide to your business, contact us or call us at 800-338-2536 for a direct pricing quote on your next wire harness or wire harness assembly project.