Custom Wire Harnesses & Wire Harness Assembly Products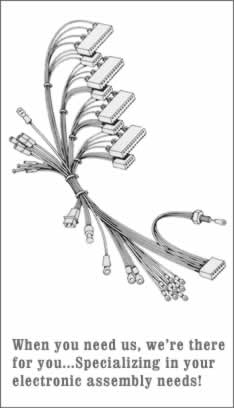 A wire harness is a group of wires that have been bundled together to transmit a signal or electrical power. Though often confused for cable assemblies, wire harnesses serve their own unique purpose. Both carry electricity, but wires are made up of strands of conductive material and are used for applications beyond transmitting electricity. Cables are made up of wires and an insulation material and tend to be better protected than wires.
To manufacture a wire harness, the assembly process is done manually instead of through automation. To assemble a wire harness:
The wires are cut to the desired length and labeled
The ends of the wires are stripped to expose the uninsulated conductor and fitted with any required terminals or connector housings
The wires and components are then assembled on the pin-board to the desired specification and then bound together
For more than 55 years, Omega Leads has specialized in the design and manufacture of custom wire harnesses and wire harness assemblies. As a leading wire harness manufacturer, we can provide complete solutions for a wide range of applications. From automobile wiring harnesses to the aftermarket wire harness assemblies required by all industries, we can do it all.
Check out our wire processing capabilities for our wire harnesses and wire harness assemblies that you need.
Custom Wire Harness Applications
We produce custom solutions for all industries and applications, including:
No matter what your requirements or application, Omega Leads can manufacture a wire harness that will surpass all your expectations.
Wire Harness Manufacturing Capabilities
Omega Leads can create custom wire harnesses in any configuration you require. There are essentially no limits to our manufacturing capabilities. We build your wire harnesses based on your completed designs, or our in-house application engineering team can work with you to turn your unfinished designs into fully-functional wire harnesses that meet your exact requirements.
Your custom wire harness designs can include:
Large selection of wire sizes or gauges
Any number of wires
Any number of breakouts, located anywhere on the assembly
Any type of manufacture connectors 
Every custom wire harness is electrically tested to ensure proper performance.
Custom Wire Harness Design Resources
Omega Leads' application engineers are here to answer any questions you may have and to help you conquer any design challenges you may be facing. We can work with your design and recommend adjustments if needed. We can create prototypes and first articles, allowing you to test your designs for form, fit, and function before a production order is placed.
Because we offer complete turnkey solutions, your staff is free to concentrate on other important projects while we handle the entire wire harness manufacturing process. Once your final design is approved and your purchase order has been received, we will take your project from start to finish, with quick turnarounds to meet your schedule.
Quality & Identification
All of our custom wire harnesses are built to IPC/WHMA-A-620 quality standards. We can add wire identification to identify individual leads for ease of manufacturing at your facility and for installers in the field. We can also add date codes and serial numbers for traceability.
All Omega Leads products are made in the USA.
Contact Us for Turnkey Custom Wire Harness Solutions
From the simple to the complex, we can manufacture wire harness assemblies for any application.
More questions? Contact Omega Leads to get our team started on the wire harnesses your project requires.