Crimp Capabilities for Terminating Wires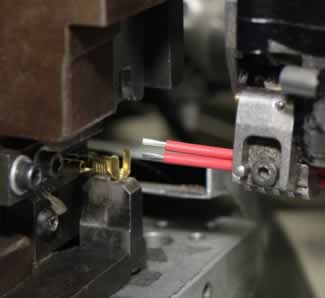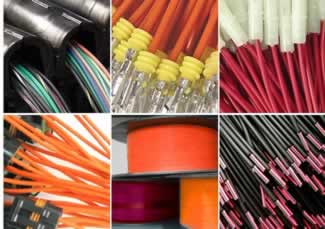 Omega Leads, Inc. has formed alliances with leading manufacturers and distributors who offer auto-replenish programs for our wire and cable, interconnect components, and a variety of packaging solutions. Our wire termination products can be combined with our custom wire harness and custom cable assembly manufacturing processes, as well as our wire identification and wire processing services, to create complete wiring systems for nearly any application.
Because different applications require different contacts, Omega Leads inventories a wide range of terminals in a multitude of configurations and have automatic equipment to support those terminals. When it comes to terminating wires, we have processed those as small as 30 gauge, as large as 2/0, and are tooled for larger cable, if needed.
Our inventory includes products from top manufacturers, including:
Molex
TE Connectivity (formerly Tyco)
Delphi
JST
Deutsch
Furukawa Electric
Yazaki
Mitsubishi
ITT Canon
Hirose
Quality & Performance Testing
We utilize IPC/WHMA-A-620 and MIL-45208A quality standards for all our manufacturing processes, and are compliant with ISO standards. This allows Omega Leads to manufacture wire harnesses and cable assemblies that meet or exceed your expectations.
Each member of our production team goes through a training process that parallels the type of production they will be performing. Training on the equipment they will be operating helps eliminate production errors and ensure a timely production schedule to meet customer deadlines.
Prior to any production, we perform crimp height dimensioning and a destructive pull test on all terminals. All assembly follows strict quality control guidelines, and a final electrical test ensures that the finished product meets all industry standards.
Equipment & Manufacturing Capabilities
We utilize state-of-the-art, computer controlled, automated equipment for terminating wires in our wire harnesses and cable assemblies. This machinery can cut and strip wire ends, apply terminals, install terminal seals that create watertight seals, and tin-dip wire ends in a variety of specialty alloys. We have invested in this equipment to guarantee precision, repeatability, and uniformity, giving Omega Leads a cost-competitive advantage. We can also supply our customers with bulk terminated lead wires and pigtails.
Omega Leads provides top notch quality wire terminations for use in conjunction with our other custom wiring products. Contact us today for more information.