Custom Wire Harnesses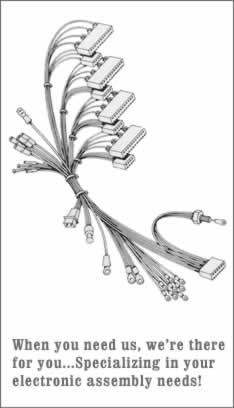 Celebrating over 55 years in the industry, Omega Leads, Inc. specializes in the manufacturing of custom wire harnesses for a wide range of applications. From automobile wiring harness solutions to the aftermarket wire harness products required by all industries, we can help! As custom contract manufacturers, we produce wire harnesses to meet our customers' unique specifications.
Custom Wire Harness Applications
We create custom and aftermarket wiring harnesses for numerous applications, including:
Aircraft wire harnesses
Automobile wiring harnesses
Lighting wire harnesses
Wire harnesses for medical, solar, and military uses
and more
No matter what your requirements or application, Omega Leads can manufacture a wire harness that will surpass all your expectations.
Custom Wire Harness Capabilities
Omega Leads can create custom wire harnesses in any configuration you require. There is essentially no limit to our manufacturing capabilities. Custom wire harness designs can include:
Any number of wires
Any size/gauge wire
Any number of breakouts
Any style of connectors
And all electrically tested
Custom Wire Harness Design Resources
We have application engineers who are here to help with any questions your design might encounter. We can work with your design and recommend adjustments, if needed. We can create prototypes and first articles, allowing you to test your designs for form, fit, and function before a production order is placed. Additionally, Omega Leads offers complete turnkey solutions, allowing your staff to concentrate on other projects.
Quality & Identification
All of our wire harnesses are built to IPC/WHMA-A-620 quality standards. We can add wire identification to identify individual leads for ease of manufacturing at your facility and for installers in the field. We can also add data codes and serial numbers for traceability.
From the simple to the complex, we can manufacture a wire harness for any application. Contact Omega Leads and allow our experienced staff to work with your team on the wire harnesses your project requires.